Upgrade your car wash with new self-service dispensers CarBax Dispenser 4 and CarBax Towel Dispenser
In 2022, in addition to exhibiting at several international exhibitions and installing new self-service car washes, we also managed to expand and innovate our product portfolio.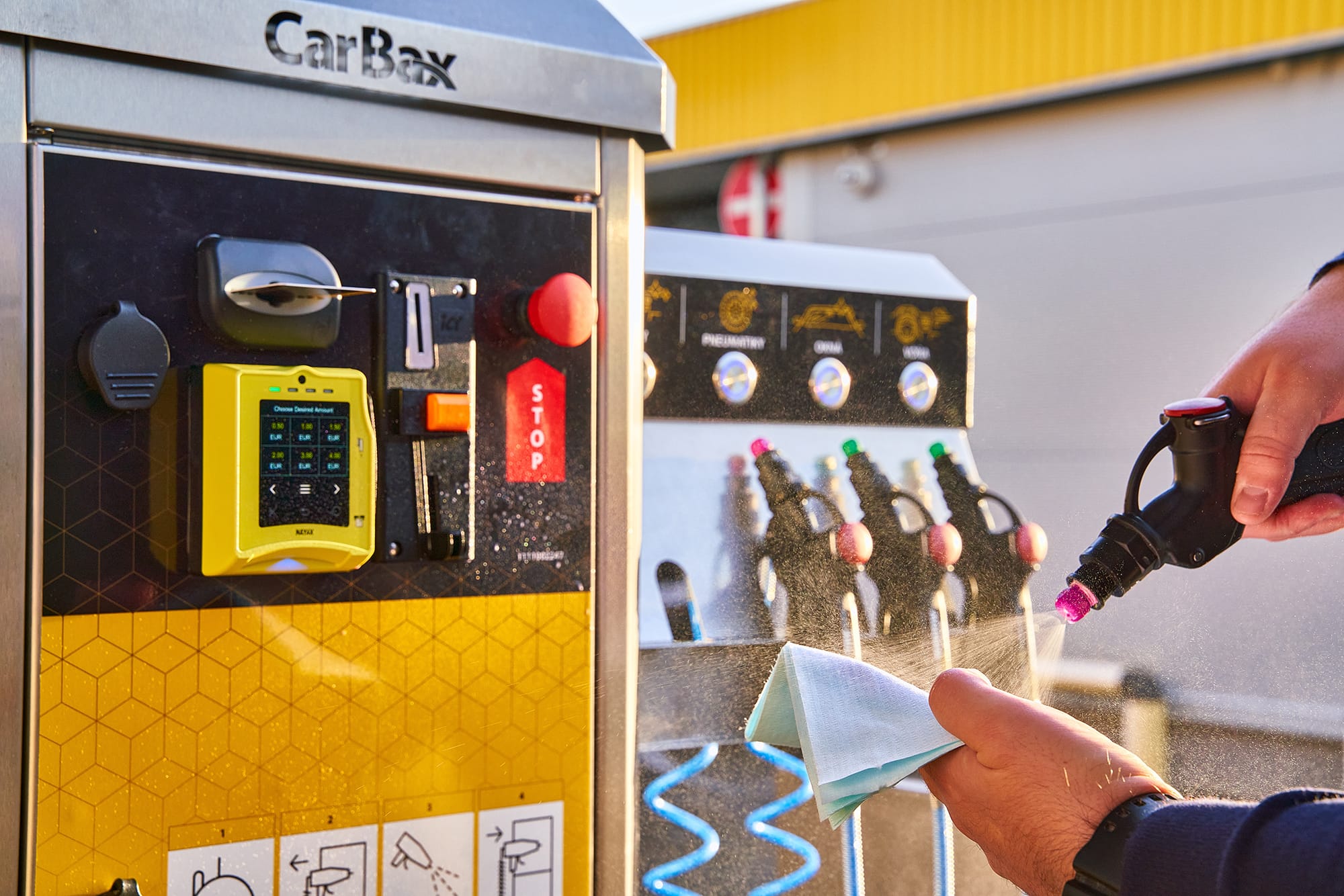 Introducing the CarBax Dispenser 4 and CarBax Towel Dispenser, our new self-service dispensers of cleaning detergents and cloths made of high-quality, robust stainless steel.
Both devices are ideal for car washes, petrol stations, and parking lots, providing even more thorough care for both the interior and exterior of vehicles.
Complex cleaning solutions
The CarBax Dispenser 4 is the perfect solution for car washes and petrol stations looking to enhance their cleaning services. This self-service detergent dispenser is designed to provide customers with an easy and convenient way to clean their vehicles. With four different types of detergents available, including cleaning and regenerating detergent for plastic surfaces, revitalization of tires, window cleaning, and air freshener, your customers can choose the appropriate product for their specific cleaning needs. 
The cleaning detergents provided are carefully selected by the CarBax Chemical division, which undertakes a thorough selection process and rigorous testing of each product to ensure the devices deliver the best cleaning results.
The CarBax Towel Dispenser is a highly convenient and versatile device that can be installed at your car wash or gas station to provide your customers with easy access to high-quality cleaning cloths. It offers the flexibility to dispense either paper, synthetic, or chamois cloths, which makes it possible to offer customers towels of different quality for multiple purposes including the application of cleaning detergents for interior and exterior car care, drying surfaces, or removing dust.
REMOTE ACCESS VIA THE INTERNET
Both devices can be accessed remotely via the Internet, allowing operators to view statistics and configure device settings from a mobile device or computer, without being physically present. Our innovative system offers a comprehensive overview of the device's operation and unrestricted access to the entire interface.
CONVENIENT PAYMENT AND ENHANCED SECURITY OPTIONS 
A variety of payment methods are available for customers to choose from when purchasing the CarBax Dispenser 4 and CarBax Towel Dispenser, including an electronic coin acceptor, a POS terminal, and the CarBax Card loyalty card system, which offers the convenience of contactless and cashless payments. Moreover, the "ANTIVANDAL KIT" add-on is optional but enhances the device's security and prevents any unauthorized intrusion.
To learn more about the CarBax Dispenser 4 and CarBax Towel Dispenser, please visit the product page - CarBax Dispenser 4 and CarBax Towel Dispenser.
If you have any inquiries or would like to get a price quote, please don't hesitate to contact us.
WATCH A DEMONSTRATION VIDEO FEATURING THE CARBAX DISPENSER 4 AND CARBAX TOWEL DISPENSER IN ACTION: